Warning… This Callaway Paradym drivers review might lead to buying a new driver. These clubs are amazing.
Golf is a difficult sport, but many of us make it 10X more challenging.
You are the wrong driver.
Avoid the driver completely
The wrong driver shaft.
You shouldnt buy drivers that have adjustable features to match your swing.
Because if you can't hit your driver consistently, it's going to make scoring low really difficult. Drivers are becoming more forgiving. plusIt is much more rewarding to reward mishits.
Callaways Paradym Series drivers, which are the most recent, can fix a lot and make it last longer.
Callaway Paradym Drivers Review
Some years, golf brands make subtle improvements to the clubs they sell. For example, this year TaylorMade released the Stealth 2 to improve upon the previous year's Stealth series. It wasn't a huge change but enough to make a difference in speed and ball flight.
However, Callaway didn't take the TaylorMade Stealth 2 approach this year. They had an undisputed top driver in 2022. But they made a dramatic change this year with the Paradym series. The new Paradym series has a completely new look, with radically changed driver heads, shafts and technology.
Was it worth the switch? Is Callaway still a top driver in this game?
Let's dive in…
These are the Key Takeaways
Callaway replaced Rogue ST Max drivers by Paradym drivers 2023.
Callaway offers many shaft options at no additional cost to help you find the right driver shaft for your swing.
Paradym offers three drivers (down from four), to match all golfers.
The new driver line features a 360 Carbon Chassis, which is lighter than the previous models.
Continue reading to discover why Callaway Paradym drivers made the 2023 Golf Digest Gold List. Find out which driver might be right for you based upon your handicap and clubhead speed.
New Design
Callaway claims that "360° Carbon Chassis promotes unprecedented weight redistribution for maximized distance. The Triaxial Carbon crown, Forged Carbon sole and chassis are 44% lighter that a titanium one. This massive weight savings is repositioned for higher MOI and increased forgiveness."
The club heads also received a carbon update. The previous driver lineup had four heads, with two triple diamond options. These drivers are lower spin to aid advanced players in minimizing spin and optimizing launch.
They will have only one Paradym Triple Diamond driver in 2023. We'll review each of the different heads below but all of them are 45.75 inches (without the ability to get a shorter shaft option).
Technology: New A.I. Technology
Callaway has been using A.I. since 2019. Since 2019, when they launched their Epic Flash driver range, Callaway has used A.I. This year, however, they used A.I. they also assisted in the jailbreak process.
This gives you more stability in both a horizontal and torsional direction, even at higher swing speeds. Overall, it's 33% lighter than the previous models but even more stable.
They also used A.I. They also updated the clubs face. Callaway says "An all-new A.I. Face optimization increases speed, launch and spin and now also allows for downrange dispersion. This is the world's most advanced driver face designed by artificial intelligence."
Hosels with adjustable hosels
Each driver has an adjustable shaft, just like the other golf brands and previous drivers. This allows you adjust the loft and lie angle to match your swing and desired shot shape.
Now that we've covered what they have in common, let's get into what makes each model different.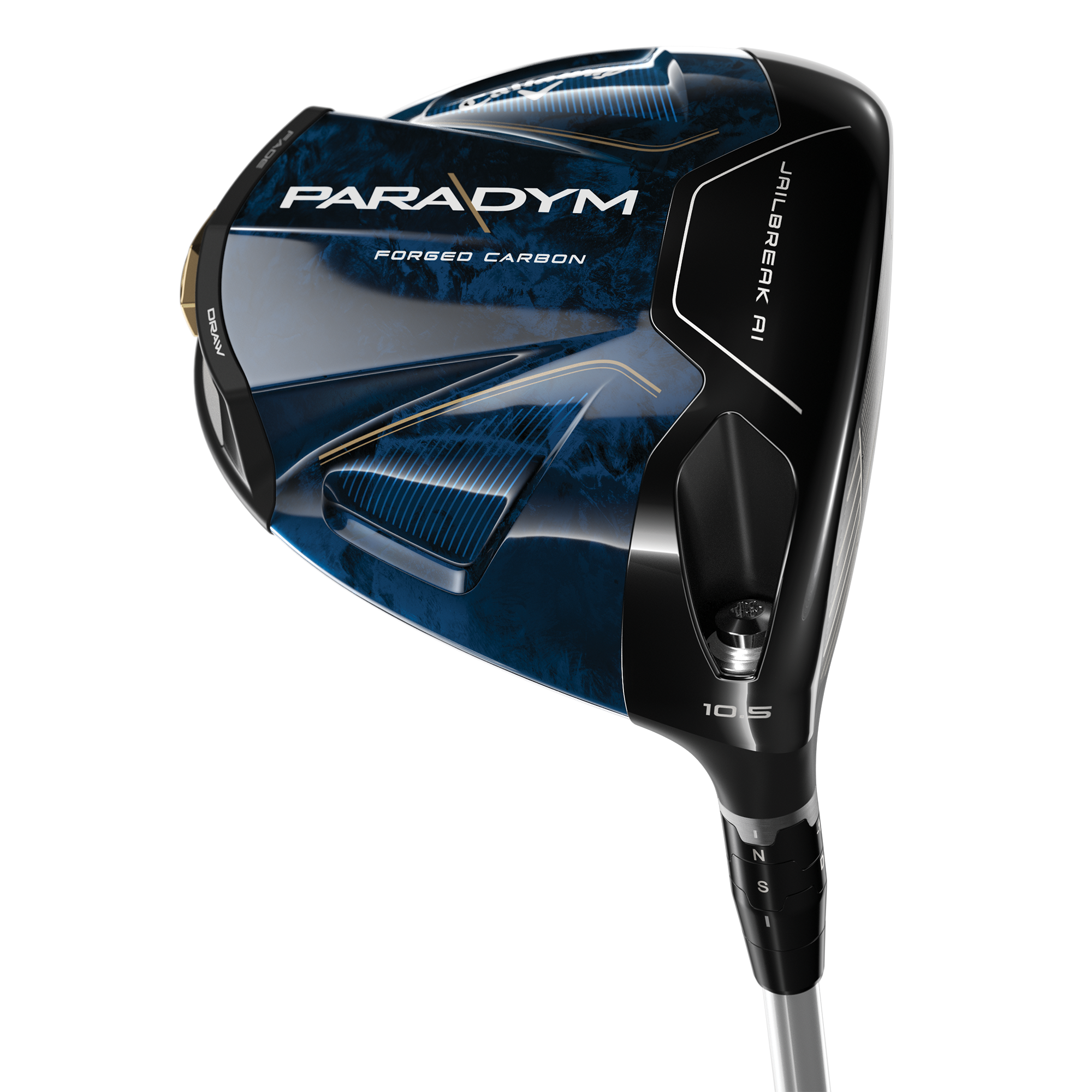 Callaway Paradym Driver
The Paradym standard driver is ideal for golfers with moderate swing speeds and mid-handicaps. It'll likely be the most popular as it fits a wide variety of golfers and has tons of shaft options (more on that later). It's a high launch, mid-spin driver with a neutral flight bias.
This model has an adjustable perimeter weighting, which is the most notable difference. The driver can have a different shape to make it easier, but also a 15 gram sliding load. This weight can be adjusted to adjust the center of gravity for a 12-yard shot shape correction.
This driver can be a great help if you have a fade of 10-12 yards that sometimes turns into a slice. This driver can also be used to help you with draw problems that turn into hooks. This driver comes in a choice of loft options in 9, 10,5, and 12 degrees.
Callaway Paradym X Driver
Paradym X is a little different in terms design and forgiveness. Here's how Callaway described it, "Built for a high launch high MOI, along with a generously stretched profile at address. This model is best suited for golfers seeking extreme forgiveness and a slight draw biased from their driver."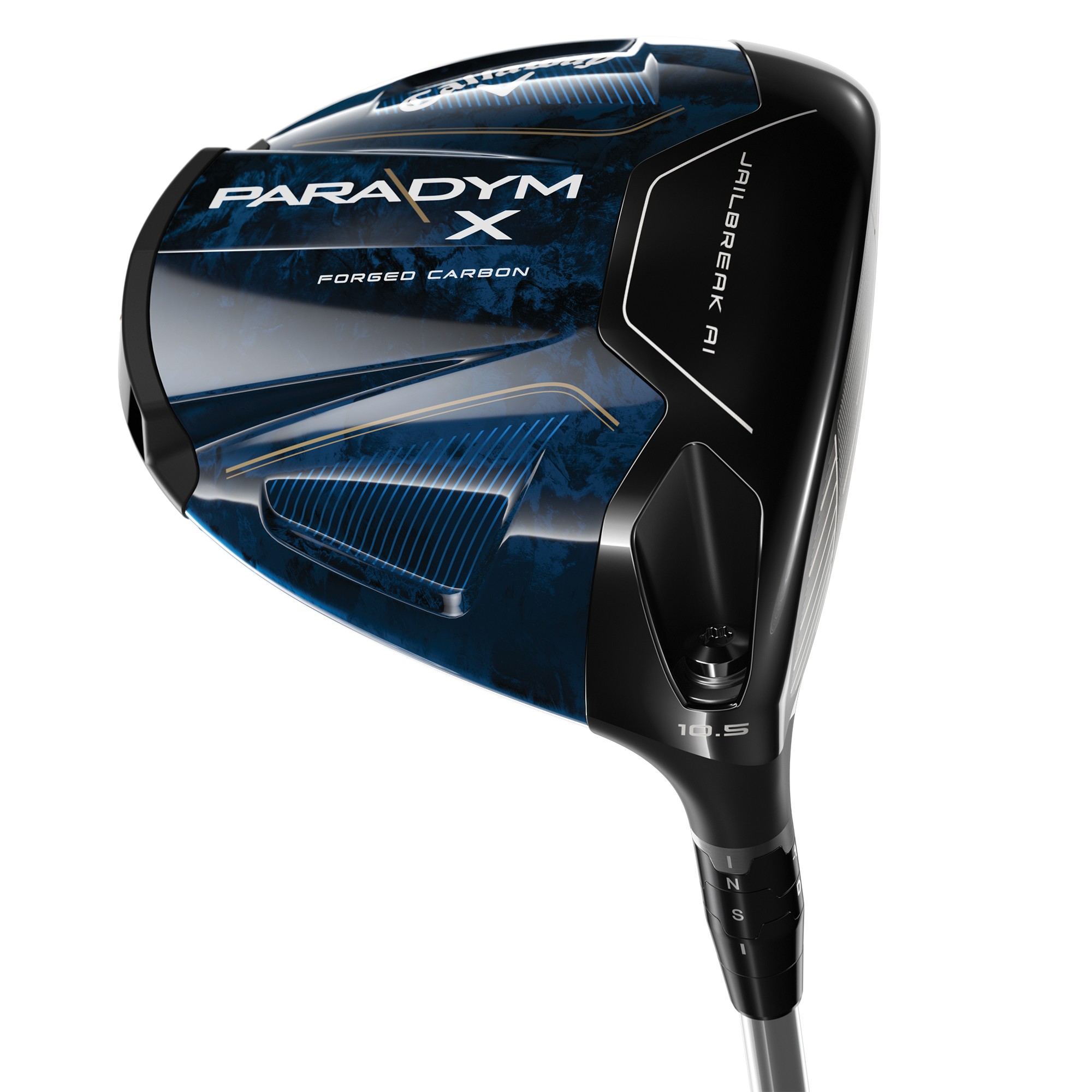 This club is more forgiving and will launch higher, but it will also help you fight that slice. This club does not have a sliding weight track, unlike the Paradym.
You can choose from a 9, 10, 5, or 12-degree loft option for this high-launching driver. It's best suited for mid-high handicap golfers with less than 100 mph swing speed.
This club is a great place to start and is great for drivers who want to win a slice.
Callaway Paradym Triple Diamond Driver
Paradym Triple Diamond is the final driver choice. As I mentioned before, the Rogue drivers had two triples diamonds. However, there is only one for this series. My guess is that the two drivers were so similar they didn't warrant creating a fourth driver head.
But that doesn't mean they sacrificed in terms of design. The Triple Diamond is the "player's model" with its low spin, mid-launch characteristics.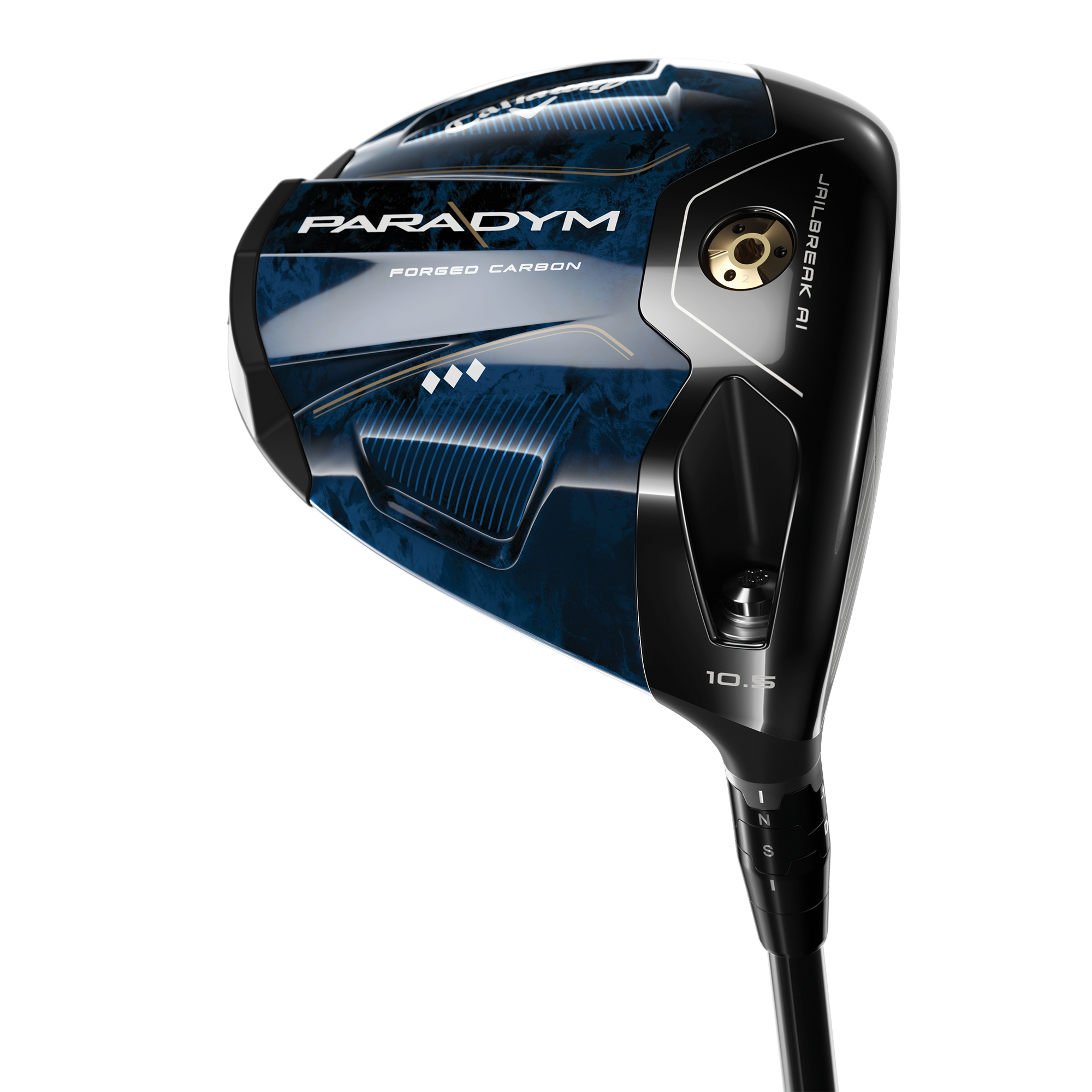 It also has a neutral flying bias, similar to the previous models, and a slightly smaller head at only 450cc. It is smaller and more compact, but it is easier to shape shots from the tee. Titleist offers a similar model for their TSR 4 driver.
While it doesn't have a sliding weight track like the Paradym, you can easily adjust the weights. The ball spin and trajectory will be affected if you change the front or rear weights. This driver comes in an 8-, 9-, or 10.5-degree loft option.
Incredible Stock Shafts
While every driver has its own pros and cons and ideal player profile each brand has their own shaft choices. I believe that the shaft choice is just as important as choosing the right driver head.
Many golf brands offer only 1-2 stock shafts. Aftermarket shafts can be purchased for $200-$400 more. Needless to say, it's easy to spend nearly $1,000 on a club which isn't possible for a lot of golfers.
Callaway is not one such company. Callaway offers some of best golf shafts in the world. This will allow you to choose the best driver head and shaft combination that will help you hit more balls and find more fairways.
This overview will help you to better understand the characteristics of each stock shaft to ensure that your swing is a good fit.
Aldila Ascent Blue Graphite This shaft is lightweight and great for senior players or people with slower swing speeds. This shaft is only 40 grams and should allow you to swing faster and gain extra distance.
Mitsubishi Kai'li White (60 or 70 grams): Another low spinning shaft that is made for better players is this option from Mitsubishi. If you have a lot of power but need some assistance keeping it straighter, a 70g flex is for you.
Project X HZRDUS Silver Gen 4: This shaft is lightweight at 50 grams and is great for average swing speed golfers. Available in stiff or regular flex, with mid-launch and mid-spin characteristics.
Project X HZRDUS Generation 4 Black: This shaft is stiff and stable, making it ideal for fast swinging players (105 mph and more). It is available in stiff and x-stiff versions, so make sure you have enough speed for this shaft.
The Fujikura Ventus TR Blue 6- shaft is the main upgrade option. This is a very popular driver shaft among single digit handicappers and PGA Tour pros. It's a low launch, mid-spin shaft that might be worth the extra money depending on your golf swing. Its not expensive, but may be worth it depending on how fast you swing.
Callaway Paradym Driver – My Personal Notes
I'll be honest, it was not easy to replace the Callaway Rogue ST Max as it's truly my favorite driver ever. After just five minutes with the Paradym, however, I was sold. I'm not sure how Callaway does it but my clubhead speed and ball speed went up immediately.
The shaft has been updated to be low spinning which improved my shot dispersion, and ball flight. However, if you aren't swinging at 107 mph or more, don't get the X-stiff of the Mitsubishi Kal'li as it's very stiff. The lower trajectory is for faster golfers.
The only downside (seriously, the only one) is that there's no marking on the top of the driver head to align the ball. Most drivers have a logo (like TaylorMade) or an arrow to ensure you're setting up to the ball in the middle of the face. This club is extremely forgiving and long.
FAQs about Callaway Golf Clubs
Do you have any questions about the latest Callaway equipment? Continue reading to find out more about Callaways latest equipment and whether these clubs are right in your case.
Is the Callaway Rogue a more forgiving driver than others?
The Callaway Rogue ST Max 2022 was one of the most highly rated drivers on the market. Paradyms new models seem even more forgiving. You can save money while still getting a comfortable driver with the Rogue ST Max.
Are Callaways golf clubs any good or not?
Yes, Callaway is a well-respected brand in the golf equipment industry. Their drivers have been very popular with amateur and pro golfers alike in recent years. The Golf Digest Gold List 2023 also included the Paradym clubs.
Which Callaway driver is the most tolerant?
The Paradym X driver is Callaways most accommodating. The Paradym X promotes a draw-ball flight. This is the main difference between it and the other drivers. It has a stretched profile at the address to make it even more tolerant.
So if you're the type of golfer that misses a lot of drives right, this driver can help. This driver can also be used if you want one that is extremely forgiving.
What has replaced the Callaway Rogue drivers
The new Paradym drivers in 2023… there are three main models; Paradym X, Paradym X, Paradym Triple Diamond.
Is the Paradym new driver equipped with a wrench
The Paradym woods now come with a wrench that allows you to adjust the hosel to your desired settings. If you purchase the Paradym model, it can adjust the sliding track to change the CG (aka the ball flight). To swap out weights, you can also use the Paradym Triple Diamond wrench.
Are there Paradym fairway trees?
Yes, Callaway updated their fairway wood line in order to match their new drivers. There are three fairway woods, just like the drivers. They also have a Paradym X and Paradym X hybrid. Sadly, they do not have a "pro" model to match their Triple Diamond drivers and fairway woods.
Final Thoughts about Callaway Drivers
Callaways latest drivers are a big hit with pros and will be a hit with amateurs. This driver won three of the four first events in the 2023 PGA Tour season.
This is a massive "Paradym" shift from the Rogue ST Max but it was worth the overhaul to the look of the driver. These clubs are very high-launching, forgiving and overall look great.
Click here to order one today
If you like the previous models, we think you'll love these too. The shaft can make a huge difference in accuracy and distance.