There are many reasons to love the crazy game golf. 
One of the best reasons to play golf is the fact that it never gets boring. No two days are ever the same. You can play different courses to keep it interesting, unlike basketball, football, and baseball.
A new course can present new challenges. Youll be able to play on different greens and make new shots. This makes it more challenging than playing the same course repeatedly. You never know when your swing might appear, and you have new pins and different weather.
There are hundreds of thousands upon hundreds of thousands of courses all over the world. However, you can also vary your game. There are many styles of golf that you can play every round.
Although most golfers stick to match and stroke formats, there are many creative ways to play a round of golf with your friends. So if you're wondering what else is out there and want to breathe some life into your golfing games, check out some of these formats. 
Different types of golf games
Before diving into the formats you might not have heard of yet, let's talk about the two most conventional golf tournament scoring methods.
Match Play Rules and Stroke Play Rules
Match play and stroke play are two of the most popular forms of play in the great sport of golf. These are very straightforward compared to some of the other scoring methods we'll discuss in this post.
For stroke play, it's what you see the guys on the PGA Tour doing week in and week out and what you're likely playing now. Stroke play simply counts every stroke (no muligans). For your total score of par, add up the front and back nine strokes at end of round.
Match play is a different scoring method, but its still very popular and a lot fun. Here's the thing, with stroke play every shot counts. But with match play, it doesn't matter nearly as much and is also the scoring method used in team competition like the Ryder and Presidents Cup.  
Match play is a game where you can only win or lose one hole. For example, if I'm playing against someone and they make a 6 and I make a 4, I only win the hole by one.
The winner or holder of honors will hit the first tee shot at the next hole. You can also concede a hole outright if you hit a few OB off the tee or give them putts as well.
As the round progresses, theres no guarantee you will finish the 18 holes. For example, if someone is three up with two holes to play and you can't win more than one per shot, there is no way to win. If you tie after 18, you can split the match. You can then call it a tie or do sudden death. 
Scramble
Now that you have more clarity on the two most common strategies, let's talk about some different golf formats. The scramble is a classic that is beloved by golfers all around the globe. 
Here's how a scramble team format in golf works.
Everyone in the group (usually a 4some but could be a 2some) tees off on the tee. 
Next, choose the best teeball and have all the players hit the shot. The ball must be placed within one scorecard of the original ball and must remain in the same grass (if it's in the rough, it has to stay in the rough).
You then choose the best ball for another strategy, chip, or putt, until the ball reaches the bottom. 
The event is won by the best score.
This is one of the most common formats in casual tournament play as it doesn't place a ton of pressure on one specific teammate. This can be made more difficult by limiting the number of drives each golfer takes. 
Some events require that each player use at least one or more tee shots. That way, you can't just hit the bombers tee off and never play anyone else's. 
If you're playing in a scramble format, expect a low score to win (like low 60s or high 50s even).This is because every putt offers four chances, which allows you to read putts and make more birdies or eagles.
But it's a good opportunity to bring new golfers into a tournament without having to rely too heavily on any single person's contribution.  
Read our complete post on strategy and rules of the golf scramble.
Texas Scramble
This is a standard scramble with a twist to make the game more challenging. Instead of playing anyone's tee shot, you have to play at least four of everyone's. You can only take six balls from one person, but you must play at most four for everyone else. 
This brings strategy into play and will make you think twice about whose ball to choose depending on where you're at in the round and how each golfer is playing.  Sometimes you might have to choose to skip your drive (even if its good) for the next hole, especially if you're a bomber on a par 5.
Shamble
You might be thinking: "What is a shamble in golf" anyways? 
No worries if you've never heard of this type of golf game but I will say the shamble golf format is one of the most fun one on this list. A shamble is a format that is very similar to a scramble. However, it has one major distinction. 
After a mad dash, the four players in the group tee-off as normal. Next, you pick the best shot and each person plays their ball.  
Scoring will depend on each event, but you can use a variety of methods. Here's a few common ones:
The team score is the best.
The total score can be equalized by two or three low-balls 
The total score is equal to the lowest score and highest score 
Eliminate the high and low scores and use the middle scores 
The scoring breakdowns show that this is a fun format. It can also be very entertaining if there is a high score. Scores won't likely be nearly as low as a traditional scramble either as each player is scoring their ball from the approach shot in. This means there will be no competition to read your ball and you wont need to know the greens.
If you're about to play in a shamble, make sure to read our guide to playing a shamble format golf tournament.
Alternate Shot
This format is for two players and is more difficult than the previous ones. The alternate format allows only one player to tee off, and the other person to play the next golf ball. Usually, player B tees on odd-numbered holes while player A tees on even holes.
From there, you continue to alternate until your ball is holed. As you can imagine, this makes it extremely difficult to score well if one (or both) of your team isn't hitting it well. It makes it easy to bring in big numbers as you don't have a partner to rely on for a backup shot.
If the first player is out of bounds, the second player must tee off hitting three from the tee. Each hole is crucial to the team score, so there is more strategy involved!
This is a challenging format to play in. We've got a full article on playing better alternate shot golf.
Chapman
While the alternate shot format is fun to watch on TV, it's very challenging for most golfers to play well. The Chapman format, also known as Pinehurst, is a simpler version. This event is similar to the alternate shots, but its a 2-man team event with alternating shot.
Heres how the Chapman format works.
Both players hit a tee shot on each hole as normal
Then, player A hits' player B's second shot and player B hit's player A's second shot. This is where it gets really fun.
Once both players have hit the first two shots (assuming the ball isn't in the hole yet), the two need to decide who's ball they will play for the rest of the hole.
Each player will then alternate shots until the ball lands in the hole.
The lowest score wins!
This is a quick example to help you understand the 2-man team event.
Player A and Player B tee off, and both hit the fairway on par 4.
Player A hits B's ball and vice versa.
Player B finds green, while player C finds deep bunkers.
They choose the birdie shot that player B left, and player B was the last player to hit the shot. Player A putsts.
Player B putsts if he misses.
If he misses, player A takes the next shot.
Continue the process for the remaining 17 holes.
This format can be very enjoyable as long as you and the partner agree on everything. Now is not the time to play the "blame game" and get mad when they leave you a tough shot (I know from experience). 
Instead, play for strategy and allow yourself as many chances as possible for you to make a birdie. You only need to play one golf club after your third shot, making par 5s more difficult and par 3s more manageable.  
Check out our detailed article on chapman golf.
Stableford Scoring
The Stableford scoring system, which is unique among others on this list, is a favorite of golfers around the world. A Stableford system awards points to specific scores on holes. 
Each golfer plays stroke play with their own golf ball, and then calculates the score. However, unlike traditional stroke play, the highest score wins. This is because the lowest scores are not allowed on the course. 
Heres a breakdown of how the traditional scoring system works. 
Four strokes less (which is almost impossible): Six points
Three strokes under (also known as double eagle/hole in one): Five points
Two strokes below (also known as an eagle), : Four points
One Stroke under (birdie): Three points
Even par: Two points
One stoke (bogey): One point 
Two strokes more (double, or worse): Zero points 
You and your group must agree on the meaning of each score before you start the round. Since most golfers won't score with the traditional scoring system, you would likely play modified Stableford version.
For example, if you're playing with a lot of high handicap golfers, you can change it so that zero points start at triple bogey and if you make double, you still get a point.
Click here to see our detailed overview of Stableford scoring.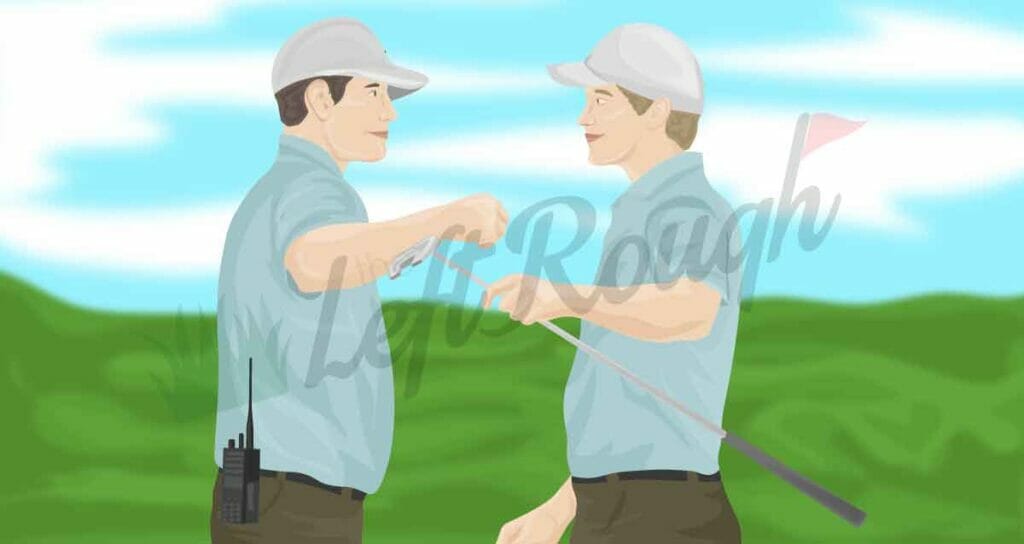 Four-Ball (4 Ball) Golf
What is 4 ball in golf?
Four-ball, also known by foursome or best golf ball, is a straightforward format. It is simpler than some other formats. The best ball golf rules are simple. Each player plays their ball and the higher score counts.
You can make this format more exciting by playing it as match play, instead of traditional stroke play.  If you have four players with similar handicaps, this team event can be fun. The lowest score wins!
This format is very common in member guests golf tournaments. Our guide to four-ball golf will help you understand the rules and how to play it.
Ryder Cup
Just typing the word "Ryder Cup" got me excited as I'd argue it's the most entertaining form of golf on TV, especially since the team event only happens bi-annually. It's so much fun to see the best golfers from Team USA and Team Europe compete head to head for three straight days.  
You can use the Ryder cup format to try and create team magic in your group. Three formats are available in a traditional Ryder Cup event: foursomes, football, and singles. 
So if you're out with your golf buddies on a trip and want to mix it up, you can add this format (or modify accordingly). Before you start, be sure to clarify the format and team names. Next, choose each team and use the opportunity to make the most of the day based on the formats. 
Mixed Format
You can create your own format, and combine the best ones. For example, if there are two groups playing on a golf trip, each foursome could play six holes in a different format. This doesnt put too much pressure on any one player.
Here's a quick example:
Hole 1-6 – Scramble
Hole 7-12 Shamble
Hole 13-18: Total strokes
If you prefer to play in a two-man team event, you can play six holes best ball, six alternate shots, and the last six in Chapman format. The 6-6-6- format is fun and makes for some great golf matches.
You can have fun with every hole!
If this idea is something you're thinking about, make sure to read our article on the wolf golf game. It is very similar to the mixed style.
Bonus: What happens if you have more then 4 golfers?
If the course allows it (always verify first), you can play many different golf games with more than one person. Whether it's Niner, High and Low, the aforementioned Wolf, we've got all of them covered. Check out our complete article on Golf Games for Five Players.
Final Thoughts about Team Events
There are many formats that can keep you and your team entertained for years. This is just one reason to love this great sport. There are many ways to play it, and it is fun to mix and match formats.
The biggest thing I'd suggest is that you and your group(s) are always on the same page with the format and rules BeforeStart the teeing process on the first hole. Otherwise, things can get awkward after 18 holes and don't want any friendly arguments about who won the match. 
So the next time you see a course having a tournament style you've never heard of, why not sign up and have some fun. 
If you're looking for our top 10 gambling games, make sure to read our full post here. We'll cover skins games, more competitions and a variation of other tournaments! You can also click here to learn about Calcutta, an exciting format.