If you're like most golfers you've asked yourself… "How do I start getting better at golf?"
After playing for over 20 years, I can probably give you 100+ tips on how to improve your golf game. But I dont want to overwhelm you with swing changes and tons of mechanical adjustments. 
These tips will help you play better. Without spending too much time on the range. 
How to Get Better At Golf – 11 Tips
What's great about golf is that the learning never stops. Golfers who are over 70 years old are still learning and trying to improve their game. Because, as Tiger Woods once stated, Its all about learning.  "No matter how good you get, you can always get better, and that's the exciting part."  
Before you start to learn tons of useful tips to improve your game, remember that the quest for greatness never ends. In a world where we're always looking to lose weight fast, get delivery overnight or other instant hacks (thanks a lot Amazon), play the long game with golf. If you have the right mindset, you can always improve and reach your potential. 
These are the Key Takeaways
Every shot counts.
Keep track of your progress over time.
Get better at your wedge shots.
Make sure you have the right equipment for your swing.
Golf requires constant practice in all aspects of the game.
For faster results, work on your short game twice as often as your long game. 
Continue reading to discover 11 strategies that will help you improve your game of golf and get the best scores possible quickly. 
1. The Right Golf Ball
Although golf is a complex sport, we can make it more difficult by choosing the wrong equipment. I'm not talking about golf clubs either but instead, your ball of choice. Because if your ball doesn't match your clubhead speed, it's going to hold you back from hitting your best shots.
I see a lot high handicap golfers playing the same ball that their favorite PGA Tour player uses. But if you don't swing as fast as Rory McIlroy, Justin Thomas, or whoever else you like, it might not be a good idea to play the same ball as them. 
For example, if your drivers swing speed exceeds 90 mph, you should Not play a Titleist Pro V1. It will limit your total distance as you don't have a high enough swing speed to reap the rewards of these golf balls. Plus, you're probably losing more golf balls too which can get quite expensive too.
Instead, test different golf balls to find the one that suits your clubhead speed. While you don't need to study the core or covers too much, here are a few basics: 
Higher swing speeds are required for golf balls that are more firm. 
You can use a golf ball selector to help you choose the right ball for you. 
Four-piece golf balls are more expensive than two or 3 pieces, and are designed for better golfers. 
2. Use a Golf GPS, Golf Watch, or Rangefinder 
It is crucial to choose the right golf club, but you must also have a GPS device to help you navigate each hole. In the past, most golfers relied on their golf cart GPS but more and more courses don't include them anymore. 
Why?
Because the vast majority of players carry a rangefinder, golf GPS, or golf watch. You should. Otherwise, you're making the sport even harder on yourself.
If you're a member at a country club and play the same course regularly, you likely don't need a golf GPS. Instead, you'll probably benefit from a rangefinder more often to dial in the distance to the flag and other hazards. A golf GPS is a great tool if you like to travel and play many new courses. 
These GPS devices allow you to view the hole from above. No more guessing if you're aiming at the right part of the fairway and can see all the hazards in sight. Plus, GPS devices are easier to use if you have shaky hands and can't focus a rangefinder on obstacles.
You can also use multiple devices, such as a rangefinder and a golf watch. A GPS enabled golf watch can tell you how far you are from the green. You can also track your score and stats throughout the round.
A rangefinder can be used in conjunction with a rangefinder to confirm distance. These two devices can be used together to help you avoid playing blind. 
3. Always be warm 
I love to watch golfers practice on the driving range. I practice between 2 and 4 times per week. It hurts me to see so many golfers move from their cars to the range without stretching or warming up. A lot of golfers even go straight to driving. Then when they hit it badly can't figure out why?
The absence of a warm-up routine can cause injury, which can ruin your chances to play good golf. Before you can hit the golf balls at high speeds, you need to warm up. 
Think about it. Most of us spend our days hunched at a desk. If you don't prime your body for the golf swing, you can injure yourself but also just not swing as consistently. 
Instead, make sure you're always warming up more than just a few practice swings. Heres a simple warm-up routine to help you play better and hit it longer while keeping your body in great shape.
Foam roll at home (5-10 minutes)
Use SuperSpeed golf training sticks or the Momentus swing trainerIn the parking lot (10-15 swings). The weighted clubs will warm your body and make it easier to swing faster once the ball is in your hands. 
Start at the driving range with wedges, irons, and then woods. Start at 50-75% swing speed. Then work your way to 100%. Don't rush it! 
Stretching is important during the day, especially when you wait for shots or in between holes. 
It's simple but it's needed to keep your body ready to play golf more often. On days when you aren't playing golf make sure to check out these golf workouts too. Plus, these golf stretches will help your flexibility and mobility too. 
4. Get more Hybrids and Fairwaywoods 
Even the best golfers can struggle to hit long irons consistently well. This is why it's crucial to replace them with driving irons, hybrids, and/or high lofted fairway woods.
Don't make golf more difficult by playing clubs that aren't right for your game.
Because of their smaller sweet spot and lower loft, long irons can be more difficult to hit than mid- or short irons. Their replacements are lighter, more accurate and more forgiving. Some golfers like irons or smaller hybrids… while others prefer wood-like hybrids or a 7-wood.
Use whatever suits you best. It's okay to have a mix of fairway woods, hybrids, and/or driving irons too. Just make sure each one has a specific distance in your game so you're not wasting one of your 14 clubs. 
This simple tip will increase your long game by 10X and allow you to swing confidently on longer, more difficult shots. Your misses will be significantly better, too. 
5. Use training aids strategically 
Golfers love to practice but unfortunately, more practice doesn't always mean better golf or lower scores. Harvey Penick stated in For All Who Love the Game that Everyone is a winner.  day I see golfers out there banging away at bucket after bucket. If I ask them what they're doing, they say, 'What does it look like I'm doing, Harvey? I'm practicing!' Well, they're getting exercise all right. But few of them are really practicing." 
So, I want to ask you: Are you practicing or exercising during range sessions? Don't worry, we've all been there but it's important to make sure each practice session has a plan. Otherwise, you're wasting your time, energy, and money at the driving range.
Too many players use training aids. This is a problem I see with many players. Don't get me wrong, we love training aids and think they're a valuable tool to help you groove a more consistent golf swing. Sometimes, less is more. 
If you use the same training aids over and over again, it's easy to get too dependent on them. This makes it easy to forget how to swing unassisted on the golf course and become more of a "range player" than a consistent golfer.
Use training aids such as the Lag Shot, Tour Striker Planemate and others. Only 25% of the time. It's good to start your sessions with these aids to build a solid foundation but don't overdo it.
Swing trainers are not as expensive as you might think. Plus, don't forget that alignment sticks are some of the best ways to improve your golf game!
6. Make sure you have a strategy
Golf is more than creating a consistent swing. Heck, I know golfers with amazing swings but can't break 85 sometimes due to a poor mental game or bad course management. 
A strategy is necessary for every shot. Otherwise, you're wasting shots from tee to green, no matter how good your swing. 
Tee Box Strategy
A teebox strategy is the first thing you should have on every hole. Ask yourself questions like, "How should I play this hole What club should I use? Are there any hazards to avoid?"
You will score more consistently if you are in good positions more often. If you're losing golf balls or playing from the trees all day, it's going to be nearly impossible to score well. 
Click here for more information about how to create a solid teebox strategy.
Approach Shot Strategy 
You must strategize how to attack each hole. Overly aggressive approach shots are a common mistake made by golfers. This can lead to a short-sided game, difficult pitch shots, and double bogeys. 
The middle of the green is a great target anytime you're outside about 140 yards. As Boo Weekley said, "The middle of the green never moves." 
The better your chances of getting a birdie, Plus, aiming at the middle of the green makes it less likely to short side yourself and eliminate doubles from your scorecard. 
Click here to find out more about creating an approach shot strategy.
7. Play One Shot Form 
If you're like most golfers chances are you try to hit shots in both directions. Sure, it's fun to curve it right to left or left to right on demand but it's also not a consistent strategy either.
Max Homa, the eventual winner of the 2023 Farmers Insurance Open was interviewed on-course about his shot shape on one hole. Max did a great job with his fade and the hole required a draw from the tee. He answered the question by saying, "Fade… I always hit the fade no matter what. I get about one draw swing a week."
This is one of top golfers worldwide, with six PGA Tour victories (as of writing), and only one shot shape. He can draw with his driver. My guess is yes but it's not as consistent as his trusty fade.
Many average golfers attempt to hit high cuts, low draw, and all other types shots during a round. This is a failing formula (unless you're Tiger Woods).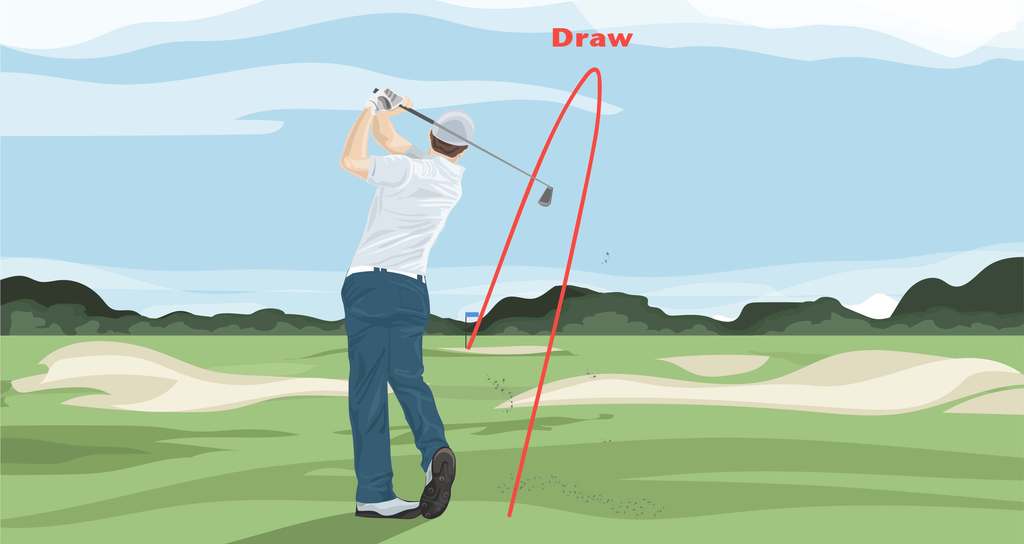 Don't make golf harder on yourself by trying to play all types of shots.
If you're behind a tree or have some other sort of obstacle, it's fine to go against your normal swing. You will benefit 99 percent of time if you play one shot shapes. 
Don't pick a draw or a cut either – instead, pick the one that is most natural to your swing motion. Swing your swing to pick targets and trust your swing when you hit the ball. 
8. Practice on the Golf Course
The driving range is very similar to the actual course. Golf is the only sport that allows you to play on the course and practice on the driving range. 
Ironically, how many times when you're playing golf on the course do you have a flat lie with the ball sitting perfectly? Most of the time, it happens only a few times. Most of the time, you are either lying in the rough, on a slope or both. 
This is why its important to practice on the golf course, and not just on the driving range. No, that doesn't mean you take a bucket of range balls to the course either. But you should have rounds where you don't keep score and work on certain shots that you can only practice on the golf course.
Here are some shots you can only do on the golf course.
Long bunker shots
Finding the right way.
Hitting over water or bunkers.
Playing punch shots underneath trees 
Putts from the long range and/or two-tier tiers 
While you can't do this at every course (or during prime golf times), it's one of the best things to help your game. Click here to find out more about practicing on the course. 
9. Practice within 125 yards
What time do you spend practicing within 125 yards? If you're like most golfers, the answer is probably not enough! 
Think about it… an overwhelming amount of the time most shots happen from inside 125 yards. Golfers tend to hit their drivers and mid-irons on the range all the time. You should love your driver and practice short game instead.
You can dial in your wedges and learn how to hit knockdown shot. Your score will improve significantly if you have your game and wedges in order. 
Learn more about the wedge shot at 50-75 yards.
10. Stop Hitting 3-Wood
Most golfers think "I'll hit three wood to play it safe and hit the fairway." But is that statement actually true? 
Not so much… I recently read an article on Golf Monthly debunking some amateur golf statistics. One of them was how hitting a 3-wood doesn't always lead to more fairways. 
They found that 5 handicappers hit a fairway 49.7% of all the time with the driver. The fairway percentage rose to 52.6% when hitting 3-wood instead. 
That's right, only three percent increase when clubbing down to "play it safe." And these are five handicappers! 
Your driver is the better play more often. A three-wood will not only get you in to the fairway more often, but it will also make your approach shot 20+ yards better. 
Also, hitting 3-wood off the deck isn't always the best idea either. A lot of golfers struggle hitting it consistently from the turf since it's so long and has such little loft. Instead, hit a 5-wood or hybrid (especially if you can't get to the green either way) to give yourself a better third shot. 
11. Get Approach Shots for a Discount 
What is the most trouble on most golf courses greens? The answer is: The green is scarce.
Where do most golfers make mistakes on their approach shots? The answer is: The green is scarce. 
Club up on your approach shots. This is a great tip to play better. Many golfers believe they have to hit the green with a perfect club. But if they don't, they're short and in thick rough, bunker, or worse. 
Take a club that you can hit at least 85% and still get to the front of your green. If you do hit perfect, you'll still be in the middle or back of the green. Or maybe just a little bit more with a more complicated chip shot. 
If you don't hit it well, you're still going to have a putt from the fringe or easy chip shot. You dont need to be a diva, so focus on your approach shots. 
Get More Knockdown Shots 
To hit more greens in regulation, you should take more club on your approach shots. To increase your chances of hitting a good shot, you can take an extra club and choke up a bit to hit a knockdown shot. 
If you watch professional golf, you'll notice they hit a ton of ¾ shots. The reason is because less can go wrong, they have more consistent spin rates, and they're easier to hit than full shots. 
If you want to hit more greens, chomp up and hit a knockdown shot. 
Here are some more tips to improve your golf game
You want to learn more tips and tricks to improve your game of golf without taking lessons? Keep reading…
Short gametempo adjustments: Change your tempo from 2:1 (vs. 3:1) on shots inside 60 yards – something the average golf instructor won't tell you!
Track Your Golf Statistics: Study your game so you can. This will make your practice time 10X better.
Make a Pre Shot SchedulePre-shot routines: These are the most important aspects of golf! Click here to start your routine.
Practice putting from two distances: In your practice sessions work on putts from 3-6 feet and 30 feet (the distance you'll likely have when you hit the green in regulation).
Keep Your Airway Open on the Golf CourseTo keep your mind calm, take a deep breath before every shot, especially if it is a tee shot.
Swing DailySwing daily to hit more great shots! Swing with a trainer, putter, or another activity to improve your swing and avoid bad habits.
YouTube University – Get Off: To become a scratch golfer you don't need to watch more YouTube videos about swing changes! Playing your own swing on the range is key to a good golf swing. If you're set on swing changes, think about if it's time to get real golf lessons.
Final thoughts on how to be good at golf
Don't forget, a bad shot (or several golf shots) is part of the game. Don't let bad shots ruin your round like the average golfer and stay strong mentally so you can bounce back. It's the next shot that matters the most.
Want to learn more tips and tricks to improve your golf game? These are your best tips for becoming a better golfer. Golf tips now.