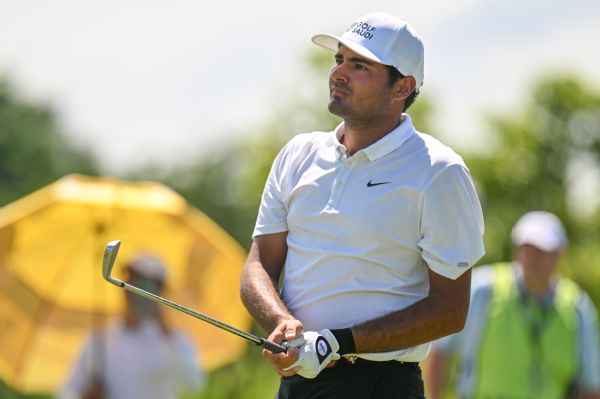 BANGKOK, Thailand – After two rounds at the LIV golf tournament in Thailand, one former amateur golfer is leading.
Ex-Oklahoma State player Eugenio Lopez-ChacarraTo play in the LIV series, he turned professional. He was ranked No. 2 in the World Amateur Golf Ranking. Before he signed a three year contract with the Saudi-backed LIV tour, he was No. 2 in the World Amateur Golf Ranking.
He birdied three of his five first holes, and eagled his sixth. This gave him a 9-under-63 score and a five stroke lead after two rounds in the 54-hole event.
After the first round, the Spanish player was one of the co-leaders. He had a total of 36 holes of 16-under 128 on Stonehill Golf Clubs north Bangkok course.
For second place, there was a tie in four ways. First-round co-leader Richard Bland (68), Sihwan Kim (66), Harold Varner III(66) Patrick Reed(65) were at 11 and under.
Branden GraceBland and Lopez Chacarra were joint leaders in the first round. Bland pulled out after three holes on Saturday due to an undisclosed condition.
Lopez-Chacarra stated that the conditions are excellent and the course is amazing. But I think what was the key was that I went back and looked at what I was doing in college. I wasn't as good the first four week as a pro. It was just fun to have fun, and then to play to not make any bogeys.
Im hitting it pretty well, but Im also playing smart and having fun.
This is the first time LIV Golf has been played outside the United States since the inaugural event in June near London.